National Theatre of Scotland Creatively Engaging in 2021
National Theatre of Scotland announces a series of new digital creative engagement projects which explore themes of care and empathy.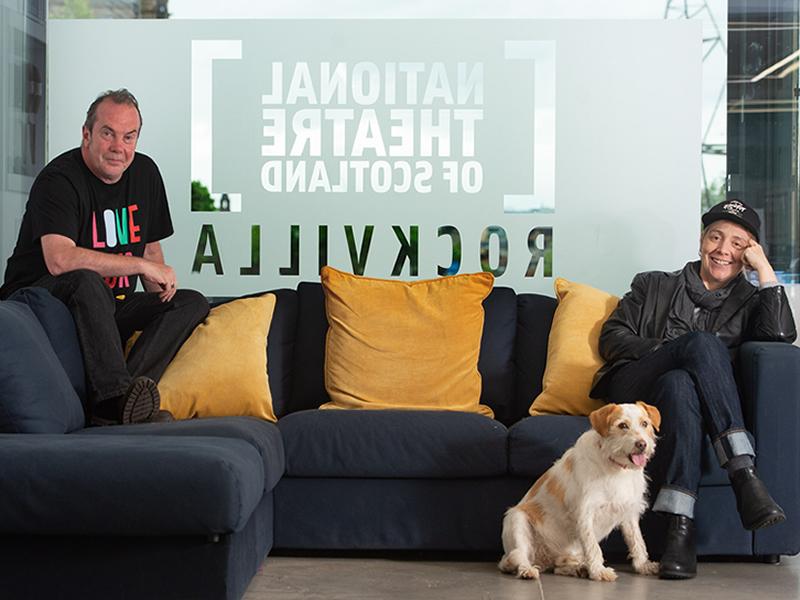 Article Source: National Theatre of Scotland
First Published: 27 May 2021 16:35
Updated: 27 May 2021 16:35
National Theatre of Scotland announces a series of new digital creative engagement projects which explore themes of care and empathy, highlighting the role that the arts can play in shaping society in Scotland in 2021 and beyond.

• Two urgent new digital works addressing Care in Contemporary Scotland with Nicola McCartney's Holding/Holding On and Non Optimum: When It's Safe To Do So from Lucy Gaizely/21Common for audiences online.

• A new project for COP26 presented in partnership with ThinkArts (Kolkata). Millipede by Shona Reppe and Andy Manley is part of a British Council Creative Commission, exploring climate change through art, science and digital technology.

• Launch of National Theatre of Scotland's Green Plan

• Pride 2021 celebrations this June featuring the online premiere of Jordy Deelight's short film Dear Deelight, the sensational Coming Back Out Ball online, the final LGBTI+ Elders Social Dance Club and a new live exhibition Portraits of an LGBTI+ Generation at GOMA, Glasgow.

• Actors and performers involved in new projects include Dean Atta, Daniel Cahill, Neshla Caplan, Jo Clifford, Callum Cuthbertson, Jordy Deelight, Finn den Hertog, Karen Dunbar, Bogha Frois, Lucy Halliday, Horse, Ian Johnston, Jamie Marie Leary, Malin Lewis, Gavin Mitchell, Jamie Rea, John Scougall, Sam Steel and Bea Webster.

A year to the day since Scenes for Survival was launched, the National Theatre of Scotland continues to strive to entertain and inspire audiences during unprecedented times. Its series of new digital creative projects explores the role of care and empathy in the arts, celebrating and focusing on specific communities and individuals in Scotland including young people in care, learning-disabled adults, elderly members of the LGBTI+ community and other community groups.

The programme continues the Company's work with local, national and international groups, lead artists and partners including Nicola McCartney, Lucy Gaizely and 21Common, Shona Reppe and Andy Manley, ThinkArts, Kolkata, Science Gallery Bengaluru, Edinburgh Science, All the Queen's Men, Australia and Jordy Deelight.

The National Theatre of Scotland continues to culturally contribute to major festivals and events and is delighted to be engaging online this June with Pride, Refugee Festival Scotland and PrideFLIX Film Festival, Philadelphia and later in the year during COP26

Jackie Wylie, Artistic Director and CEO, National Theatre of Scotland says:
"We are very excited to be planning our return to live work from August 2021 which we will be announcing shortly. In the meantime, we are focussing on continuing to produce entertaining and empathetic artistic digital films, events and projects.

In the month of June we are focussing on our creative engagement programme with individuals and communities to explore their lives, their stories and their resilience in the face of current social challenges. Two leading Scottish artists have conducted creative enquiries, crafting digital projects exploring care in contemporary Scotland and we are thrilled to be celebrating Scotland's rainbow community with a month of online Pride events, including a new piece of work from the fabulous Jordy Deelight and our equally fabulous Coming Back Out Ball extravaganza. We are also working with brilliant theatre-makers Shona Reppe and Andy Manley alongside community groups and ThinkArts, Kolkata, on Millipede, an interactive artistic response to Climate Change and our carbon footprints.

We understand that audiences and communities, artists and freelancers continue to live in anxious times. This month-long digital programme explores the meaning of the word care. We want to demonstrate how caring for each other, communities and our planet is critical in shaping society and culture in Scotland in 2021 and going forward, and highlight the role that the arts can play in hopefully kinder times"

Image: Gavin Mitchell and Karen Dunbar
Image credit: James Chapelard
Got a story to share? Send us an email at hello[@]whatsonnetwork.co.uk
Latest East Renfrewshire News
Sponsored Links
Popular Events
DinoCHUMs East Ren is a family friendly, app-based Treasure Hunt being held in Rouken Glen Park, for residents of East Renfrewshire, as part of the wider Choose How U Move East Ren programme!
Join the Friends of Cathcart Cemetery for a tour of this magnificent late Victorian Garden Cemetery in the Southside of Glasgow!
Join the Whitelee Countryside Rangers on Sunday 1st August as they explore the hilltops near the visitor centre!
Support local artisans in your community by popping along to this Craft Fayre being held on Saturday 7th August at Pro Soccer in Rouken Glen Park!
East Renfrewshire Culture and Leisure are running their popular All-Stars camps 5 days a week throughout the Summer Holidays!