Love Seafood: Must try seafood spots in Scotland
Here at Love Seafood, it's our mission to get you excited about eating seafood, so we've pulled together some of Scotland's best seafood restaurants.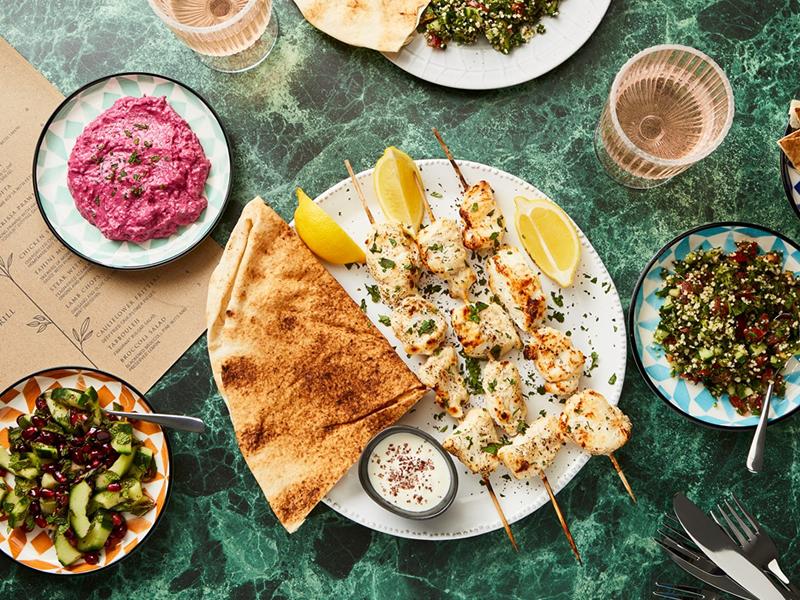 Article Source: Love Seafood
First Published: 23 August 2021 16:03
Updated: 23 August 2021 16:06
After a challenging year at home, it's little wonder so many of us are embracing our newfound sense of freedom and planning a summer staycation this year. Whether it's returning to places we visited as a child or exploring new destinations recommended by friends, holidaying at home has never been more popular.

Scotland is high on the list of staycation destinations and we can see why. A trip north offers the chance to go on one of the world's greatest road trips. Within a matter of minutes, you leave the historic cities and bustling towns behind and find yourself amidst breath-taking hills and Highlands, travelling alongside lochs, beneath towering mountains.

One of the most exciting things about being on holiday is the opportunity to try something new and what better way to do that than discovering new tastes and flavours at local eateries. Here at Love Seafood, it's our mission to get you excited about eating seafood, so we've pulled together some of Scotland's best seafood restaurants which are sure to give those back home serious FOMO!

White Horse Oyster & Seafood Bar, Edinburgh
www.tripadvisor.co.uk/Restaurant_Review-g186525-d3875568-Reviews-White_Horse_Oyster_Seafood_Bar-Edinburgh_Scotland.html

Scotland's historic capital is often the launch point for a grand tour of Scotland and this seafood restaurant in the oldest inn on the Royal Mile is one of Edinburgh's finest. The flair and imagination that has gone into the menu is incredible, with the kitchen team taking the best Scottish produce and creating little masterpieces. Small plates include hand dived scallops with pickled girolle, furikake and roasted mushroom (that's various mushroom types to those not in the know) while their selection of seafood platters are a sight to behold. Perfectly positioned near the castle and other popular attractions, the White Horse Oyster & Seafood Bar is the perfect end to a day spent exploring Edinburgh.

Address: White Horse Oyster & Seafood Bar, The Royal Mile, 266 Canongate, Edinburgh EH8 8AA

Try the: Monkfish satay with toasted nuts

What the reviews say on Tripadvisor: "A real gem. Fabulous atmosphere, welcoming and authentic. Food was amazing. Fresh, fabulous flavours and absolutely delicious"

Gamba, Glasgow
www.tripadvisor.co.uk/Restaurant_Review-g186534-d719000-Reviews-Gamba_Seafood_Restaurant-Glasgow_Scotland.html

Another point of arrival for visitors to Scotland is Glasgow, the industrial heartland and a city transformed. Glasgow is packed with exceptional bars and restaurants and is a city renowned for its hospitality and the warm welcome given to visitors. Some areas, like the Finnieston strip, consistently rank among the best places to eat, drink, and live in Europe. The strip boasts the highly rated Crabshakkhowever if you are more central, Gamba, which opened in 1998, is long established as one of the city's finest fish restaurants. Tucked away in a city centre basement, this Michelin recommended eatery is a cosy venue serving up some real seafood treasures. You'll find some of the best seabream, lemon sole and halibut you have ever tasted on the menu and be blown away by the dining experience.

Address: Gamba, 225A West George Street, Glasgow, G2 2ND

Try the: Roast Shetland cod with coral creamed hispi cabbage, garden peas, peat smoked haddock and tarragon

What the reviews say on Tripadvisor: "The food here is outstanding. You know you have had a great meal when you still talk about it the next day!"

Brea, Stirling
www.tripadvisor.co.uk/Restaurant_Review-g191266-d2213954-Reviews-Brea_Scottish_Restaurant-Stirling_Scotland.html

The town of Stirling has its castle, the Wallace Monument and Battle of Bannockburn visitor centre and is viewed by many as the 'gateway to the Highlands'. It also has one of the best restaurants in Scotland - the outstanding Brea. Transforming fresh, locally sourced ingredients into dishes which showcase the best that Scotland has to offer, Brea ranked amongst the best restaurants in Scotland has won numerous awards. Fresh seafood from the West Coast and Islands of Scotland features prominently on the menu, alongside advice on the best wine to pair with your dish. Brea also offers a Vegan and Children's menu. The staff are also renowned for their service and love taking the time to introduce new flavours and dishes to customers.

Address: Brea, 5 Baker St, Stirling, FK8 1BJ

Try the: Rolled haddock stuffed with smoked salmon and served with creamy mash potato, seasonal veg and a dill cream, paired with La Chablisienne Chablis

What the reviews say on Tripadvisor: "The best meal we've had in Scotland on this trip. Delicious food, great service, lovely atmosphere and they make the best French Martini too!"

The Crannog, Fort William
www.tripadvisor.co.uk/Restaurant_Review-g186545-d946677-Reviews-Crannog_Seafood_Restaurant-Fort_William_Lochaber_Scottish_Highlands_Scotland.html

There aren't many places where you can enjoy your meal before setting sail on the restaurant's own boat, but TheCrannog in Fort William isn't any ordinary venue. Loved for its seafood and fresh fish, it sits within a quirky little building at the end of the pier on the shores of Loch Linnhe. And in the dock alongside, is the Souter's Lass – the restaurant's boat cruises – which takes tours of the sea loch and neighbouring waters. The Crannog only serves the freshest shellfish and seasonal Scottish fish. You'll find classics, like a warming bowl of Cullen Skink as well as modern twists, such as the Fisherman's Feast – a selection of fish and shellfish in a tomato and seafood broth with a rouille crouton. It's a 'must-visit' in this thriving Highland town.

Address: The Crannog, Town Centre Pier, Fort William PH33 6DB

Try the: Baked seed-crusted hake, with coriander and cashew pesto, served with broccoli and sweet potato mash

What the reviews say on Tripadvisor: "If you happen to be around Fort William and are a seafood lover, please go and eat here. The food is just fantastic"

Anstruther Fish Bar, Anstruther
www.tripadvisor.co.uk/Restaurant_Review-g551743-d730790-Reviews-Anstruther_Fish_Bar-Anstruther_Fife_Scotland.html

'The best fish and chips in the UK' is quite a boast, but the reviews of Anstruther Fish Bar and Restaurant speak for themselves, as does the lengthy queue that snakes down the waterfront at teatime. People drive to this little fishing town from all over Scotland to visit this fish and chip shop and if you are travelling up the east coast, you simply must stop here. There are a few other excellent fish and chip shops in town, but this is the original. The restaurant has limited seating inside but if you're lucky enough, you'll be able to grab a table and settle down with a cup of tea and supper. If not, you can join the throngs tucking into their fish and chips along the waterfront. Trust us, you'll not be disappointed.

Address: Anstruther Fish Bar, 42 - 44 Shore St, Anstruther KY10 3AQ

Try the: Fresh Scottish haddock deep fried in a 'secret recipe' light, crispy batter

What the reviews say on Tripadvisor: "You can't beat an 'Anster' fish supper by the beach. Beautiful scenery to enjoy beautiful food. Don't be put off by the queue!"

River House, Inverness
www.tripadvisor.co.uk/Restaurant_Review-g186543-d2063321-Reviews-River_House_Restaurant-Inverness_Scottish_Highlands_Scotland.html

Inverness is a town which has grown rapidly in recent years and this boom has seen numerous new ventures and eateries spring up. But one longstanding, firm favourite amongst locals and visitors is River House. Chef Allan 'Alfie' Little, who is originally from Cornwall, is something of a local hero and over the past 18 years has taken River House to heady heights picking up numerous awards and excellent reviews. Alfie, who is one of the creators of the Highland Food Festival, uses locally sourced, top-quality produce. He prides himself on the great rapport he has built up with local fisherman, fishmongers, butchers, farmers and fruit and veg producers. The result of using all this great produce is a shining jewel in the northern reaches of Scotland and a dining experience to savour.

Address: River House, 1 Greig St, Inverness IV3 5PT

Try the: River House fish stew with mussels, king prawns, crab, clams, and scallops tossed in a tomato-based sauce, topped with a grilled fillet of hake and a west coast langoustine, and served with crusty bread and aioli

What the reviews say on Tripadvisor: "Faultless. Friendly attentive staff and the chef came out to meet diners which was a nice touch. You can see the kitchen from the restaurant which always adds to the experience"

The Lower Deck Seafood Restaurant, Portree, Isle of Skye

You'll find the Lower Deck on the harbour-side of Portree, the Isle of Skye's main village. Established in 2007, the family who run it source their produce from local fish merchants and the chefs put their heart and soul into every dish. The restaurant sits in a row of distinctive, painted houses on the harbour front and overlooks the water. Inside you'll find plenty of maritime influences in the décor. On the menu are Scottish favourites such as Isle of Skye mussels and smoked haddock and you're guaranteed a generous portion. Their smoked fish is exceptional and there are a few unexpected delights in store for diners such as pickled sweet herring fillets.

Address: The Lower Deck Seafood Restaurant, 1 Douglas Row, Portree IV51 9DD

Try the: Grilled hake or pollock, served with hazelnut and pesto crust on a medley of roast vegetables bordered by herb diced potato

What the reviews say on Tripadvisor: "A number of locals had recommended this place - and we can see why. The food was spectacular - and as a seafood lover I don't say that lightly"

The Seafood Shack, Ullapool
www.tripadvisor.co.uk/Restaurant_Review-g316004-d10259933-Reviews-The_Seafood_Shack-Ullapool_Scottish_Highlands_Scotland.html

The little port and village of Ullapool is one of the most popular stopping places in the Highlands, surrounded by incredible scenery and wildlife. It's also something of a cultural hotbed, home to festivals and a thriving music and literary scene. The Seafood Shack is a firm favourite with visitors and locals alike. Run by locals, Kirsty and Fenella, this little catering trailer is renowned for its food, much of which is caught and landed by Kirsty's partner, who is a local fisherman. Their website lists their suppliers and tells the stories of the local boats and fishermen. One of the real delights here is that the menu is ever-changing. The team see what catch comes in each morning and shape their menu accordingly. Seafood Shack recently published their own recipe book, sharing some of their favourite dishes and this is one incredible, no frills dining experience that will live with you forever.

Address: Seafood Shack, West Argyle Street, Ullapool, IV262TY

Try the: The menu changes daily, but expect delights such as a fresh haddock and langoustine paella

What the reviews say on Tripadvisor: "We had a delicious lunch at the seafood shack whilst on the north coast 500. The fish cakes and the haddock wrap were insane. Would 100% recommend!


Got a story to share? Send us an email at hello[@]whatsonnetwork.co.uk
Latest East Renfrewshire News